What can I say about Tina Harris? A ray of sunshine? A shining star? A…. Okay, okay well maybe no more cliches… But what I will say is that Tina Harris is a phenomenon in the world of kid's music and education. Alongside her tremendously talented husband Mark Harris, they are a musical powerhouse with a message just too important to ignore. So, without any further ado, I introduce to you, the wonderful Tina Harris. Mother, teacher, content creator and beautiful and helpful friend to everyone she meets. Take it away Tina! Enjoy.
Why is music important for our kids?
Bringing music into your little's ones life can be as easy to do as turning on the radio in the car or having something play at home on google or the TV. I grew up with music all around me. My grandpa Dunc, who was an Olympic cyclist, just loved old musicals and we would watch 'The King And I' or 'On The Town' after school together. Mum and Dad loved going to shows so I think I had a love of music from a young age. Although I was such a good singer back in high school that they put me in the band on saxophone! I think they were trying to tell me something, but I really did love the saxophone back then.

Having music playing in the car is a great start, because it's more focused listening; I always encourage parents to bring their little ones to live shows and concerts and there are so many amazing choices now in all cities; stop and listen to buskers and street performers; join an early childhood music appreciation class; have music on your phone or tablet and most importantly; talk to your children about what you hear, "Do you like this song? Why? How does it make you feel? Is it fast or slow? is it funny?" Just engaging children in conversations about music opens up how they think about it.

You are never too young or too old to start appreciating music. I used to teach children from 0-5 years in our music school. The babies classes were so much fun and it was a great way for parents to meet other parents (and some lovely grandparents too). However you don't need a class to enjoy music with your baby – sing, sing sing! I used to tell my mums that the sound of their voice was the most beautiful sound in the whole world to their child (they would often roll their eyes at me, but it's true!) Swaying and bouncing along to the rhythm is a wonderful way to introduce beat and tempos. Toddlers love music and there's nothing more fun than a bouncing nappy bottom jumping along to their favourite song.
Live music can be fun for the whole family. A number of performing arts centres around the country and orchestras like MSO and WASO run babies proms which are basically for 2-5 year olds but babes in arms are welcome too. When we played the Melbourne Recital Centre for the Music Play festival there was a mum who had brought her older child (2 years) but she had a 4 week old baby in her arms. She joked that she held the record for the youngest Lah-Lah audience member. My advice on this is to find a show and venue that is family friendly and look at the age guidelines. Venues are usually really good at what age they believe their show is suitable for.
The question I get asked the most is, what age should my child start instrumental music lessons. Oh and this is a tough one because there are lots of different schools of thought here. I have friends who have taught their children violin from a very young age and I have other friends who have waited until kindergarten or later. Again this really depends on the child and the family. My two girls started learning later as we had so much music in our everyday lives but generally I lean towards the kindergarten model so that learning to read music and learning to read and write all come together around the same time.
Having a variety of music that you like as a parent is a good thing. We often feel we have to play overly kiddy music to children but kids are great listeners and the more different kinds of music you can show your little one the better.
Learning about music is like learning a new vocabulary – you have to hear the sound, learn what it means and then decide what you like and don't like. Children love sharing experiences with their families. If you put on music and have a family dance you will be amazed at how much fun your kids have. We often have music playing while I'm cooking or cleaning, the kids love it and I do too.
Music is so important to little ones development. There have been so many studies done on this and time and time again it has been shown that music is fundamentally important for every child's brain development.
Music stimulates right and left hand sides of brain development. It helps with language development, movement and all the senses.
Music also helps with memory development. Children who have been exposed to and learn music have been reported to do better at maths and reading when they start school, and are able to focus, play and socialise better. It really is one of the best gifts you can give your child.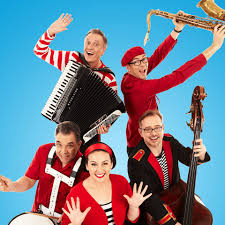 Music has been the most amazing career for both myself and my hubby Mark. After University I sang with Opera Australia for years and travelled to Paris and Japan teaching and performing but after my two little girls were born I wasn't quite sure how family life and performing life would work. My universe had somewhat shifted, and I think this is a feeling many mums experience. My friend Kate at the Opera suggested I teach early childhood music classes, which I did for about four years. My little classes turned into a school and then four schools. At the end of every term I would put on a little concert for the families and Mark would come along and play the bass. The families loved it and said, "why don't you do a show" so that's kind of how Lah-Lah started. We invited Nickelodeon, The Sydney Opera House and The Enmore Theatre along to our first season and they all signed us up. So we went on to make the music video clips for Nick Jr. and we all just loved making those. From that moment on my dream was to make the TV series Lah-Lah's Adventures.
Tina Harris is a mother, teacher and performer and combines her love of children with her love of music.
Tina has led an exciting career in teaching an music all around the world. Tina and he husband Mark have 2 international TV show, tour the country nationally and produce music and videos from their studio in Sydney.
Thanks Tina for your wonderful insight. I have included a Spotify Playlist featuring Lah Lah's Big Live Band. Enjoy listening everybody and thanks for stopping by. See you all again soon. Bye for now. Debbie Doo⭐